Order № 266
Just a Hum of Nothingness
Between Me and You

Object, 2022
Sign 'Между мной и тобой только гул небытия', Moscow.
Acrylic stencil on fiberboard, 16,30 × 0,70 m
2021
Venets. Welcome to The Ideal
Russian Edition
№ 252 - Newspaper
ISBN 978–5–600–02969–9. 400 × 578 mm, 36 pages, 144 illustrations.
Edition: 1970 copies.
690 rub.
Order No. 249
'Moscow Lights'
On The Moscow Ave.
Moscow Lights
Film, 23 min 30 sec, 5k, Widescreen 2.66:1, Edition of 5.
Commissioned for the
2nd Triennial of Contemporary Art
at the
Garage
Museum. Film is yet another chapter in the story of a fictional publishing house Gluschenkoizdat. This time the publisher is about to close its original Kaliningrad division and move to Moscow. Part of the team struggles with changes and tries to find a way to survive in a hometown.
Order No. 260
Benign Duplicates
Acrylic paint on the wall, 4000 × 3500 mm. Prints No. 159–162, 1000 × 700 mm (edition of 10 copies). Gluschenkoizdat, 2021.
Order No. 150
Venets. Welcome To The Ideal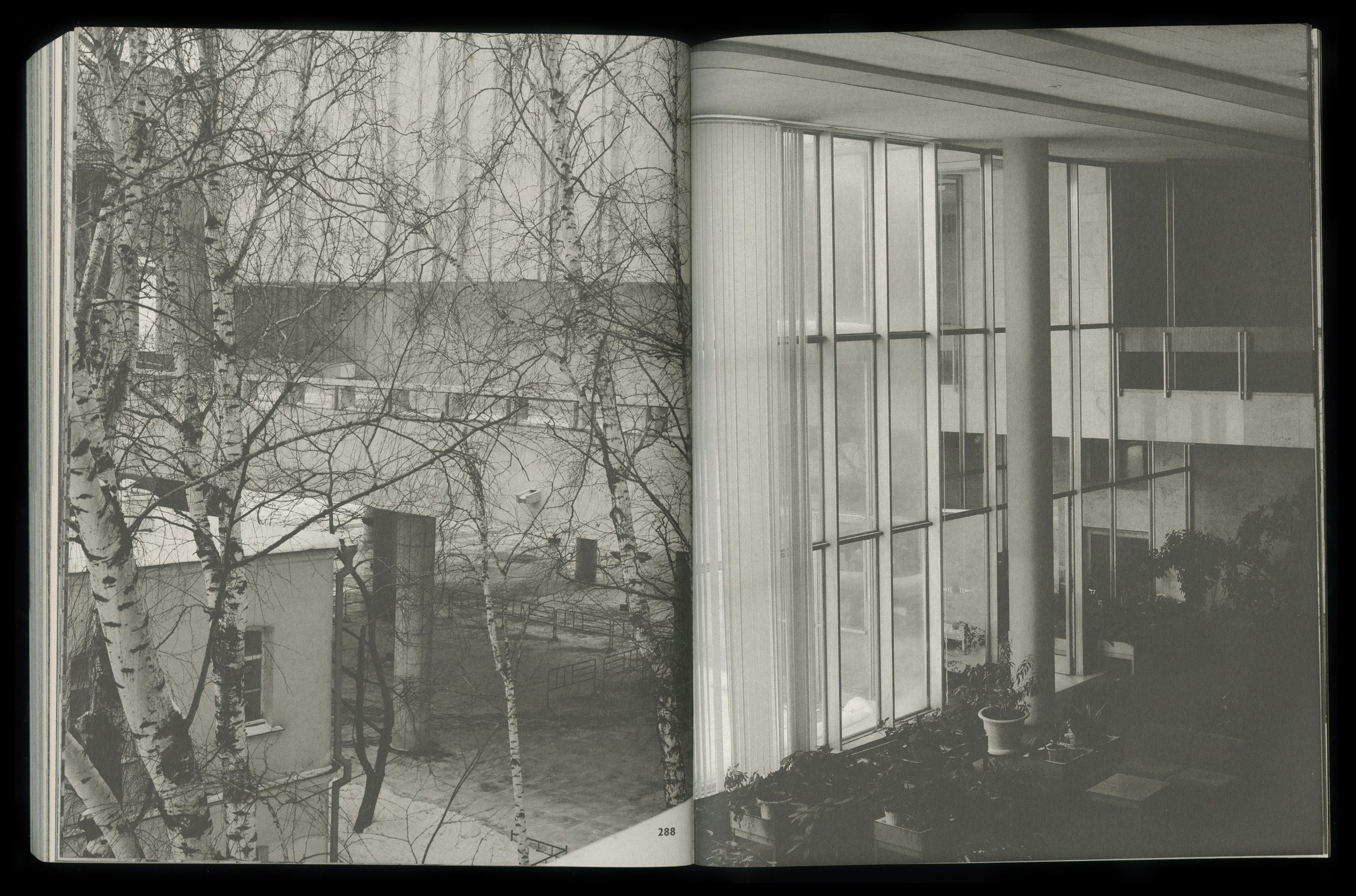 ISBN 9–785990–951914. Softcover, 200 × 260 mm, 320 pages, 500 copies.
English. Gluschenkoizdat, 2017.
Order
(€35) SOLD OUT
This wonderful book documents the architectural results of another Soviet anniversary – the celebrations of the centenary of Lenin's birth in Ulyanovsk, formerly Simbirsk, the small city on the Volga where he was born. Told by the authorities in Moscow that the 'door would be open' for them to modernise their mainly wooden, one-storey, Tsarist city for the duration of the celebrations, and that they'd close it immediately when it was over, the local Party rushed to build a Museum, a Library, a Palace of Culture, housing, an Airport and the high-rise Hotel Venets before the tap of money and resources was turned off. In its first year of opening, two Poles, 70 Britons, and more than 3,000 East Germans arrived to stay in the Hotel Venets, and we get to read the inventory of difficult questions they answered ('can we see how people live in those little wooden houses?'), and find out how hotel staff took it out on the guests.