2020
Film 'Moscow Lights':
...On The Moskovsky Ave.
№ 249 • Film

Written by Grigor Atanesian. Directed by Kirill Gluschenko. Сinematographer Vitaliy Selin. Artist Kirill Gluschenko.
Sound engineer S. Obraztsov. Sound director S. Paushev. Costume designer N. Rubatskaya.
Make-up artists: E. Janssen, E. Gosteva. Edited by K. Gluschenko.
Line producer I. Litvinova. Artist assistants: A. Grigoriadi, D. Kulikov, V. Pavlyuk.
Focus puller I. Parshikov. Technician O. Sosnitskiy. Sound director assistant Ya. Red'kin Light N. Nosan'.
Typeface Y. Anfalov. Poster illustrations D. Semenets, K. Mityushkina.
Cast:
Tatyana Rogacheva, Petr Mutin, Lyubov Orlova, Maria Chernova,
Gennadiy Filippovitch, Anton Zabrodin
SHERGIN: I expressed my objections to you. I thought you heard me.

ZILOVA: Kostya. I heard you. And I did as I saw fit. The editorial office is moving. Separatism and emotions will not be taken into account.

SHERGIN: The art department should stay. We educate local artists. We pass things on. This is our duty. Glushchenkoizdat is a Kaliningrad publishing house!

ZILOVA: Kostya, why don't you make a movie. We can show it at the Barrikady cinema! And then we will celebrate the premiere at Moscow Lights. Our Kaliningrad is long gone, Kostya.

SHERGIN: Yes, and before you they also talked about the Royal Castle. "First it was Kaliningradgrazhdanproekt that decided, now the market decides." And the city continues to disappear!

ZILOVA: Kostya, you sign off the layouts, I sign off the accounts. That's all.

This is not a matter of choice. It's a matter of survival for the publisher. Either we move to Moscow or we close next year. Like the art gallery closed. Like everything that isn't given over to producing dumplings closes.

SHERGIN: Yes, Olya… Sorry… We each promote our local departmental interests, and you are responsible for everyone. Just…

ZILOVA: I know, Kostya. I know. It's good that that you are promoting the interests of the departments. This is what I expect from you. At first it will be hard. But I promise you, if we get through the next two years, you and I will sit down together and discuss a partial return.

SHERGIN: …to Brideshead. Do you think we need to get drunk every night?

ZILOVA: I think it's obligatory.

SHERGIN: Me too.
Fig. 11
The editorial office of Gluschenkoizdat Press is located in the House of Trade Unions (1985) on Sergeyeva Street. Here we can see the building in its original state, when the ground floor was open to everyone. In a few more years, in the early 90s, this place will be especially loved by the first Kaliningrad skateboarders.

Photo: A. Erohin, 1985.
Kaliningrad Oblast State Archives
Fig. 12
Fig. 13
Fig. 12 — Peter Mutin (on the left) in the workplace drama Moscow Lights played the role of Shergin, Art Director of Gluschenkoizdat. He has to bail out his friend, editor-in-chief Vilen Zagorsky (Gennady Filippovich, on the right), who hesitates to enter the Roskomizdat office.

Fig. 13 — Tatiana Rogacheva performed the role of Olga Zilova, head of Gluschenkoizdat. She will have to convince the Art Director, one of the founders of the publishing house — and simply a friend — Kostya Shergin (Peter Mutin) to move to Moscow. This won't be easy.

Fig. 14
Fig. 14 — Moskovsky Prospect itself could be seen as a hero of the film. Exhibition of Leningrad avant-garde (1989) at the Kaliningrad Art Gallery, the closure of which Zilov reminds Shergin; new pharmacy on Novopregolskaya Quay (1979), next to where the final scene was filmed; and, of course, the House of Soviets (1981).

Photos: A. Osadchuk, V. Manachin, E. Chepinoga
State Archive of the Kaliningrad Region
Fig. 15
Fig. 15 — Lubov Orlova (on the left) as a young editor in the workplace drama Moscow Lights. On the eve of the move she is haunted by doubts and fears: "Friends will stay, they will build homes by the sea, and we will travel from one subway station to another". Designer Maria Chernova (on the right) argues that to stay in Kaliningrad — is just to be upset about everything all of the time.
Fig. 16
Fig. 16 — Moscovsky Prospect (1975), another full-fledged protagonist of the movie. Here are the new 14-story apartment buildings, the mysterious stores Gifts and The Hunter, and the very cafe Lights of Moscow (in the center), where Zilova suggests Shergin celebrate the premiere of his "film" about Kaliningrad. Back in the courtyard there is the Barrikady cinema.

Photo: Y. Makhanovsky, 1984.
State Archive of the Kaliningrad Region
Fig. 17




Sign "The poetry of mature searching", 5600×1035 mm
Acrylic on fiberboard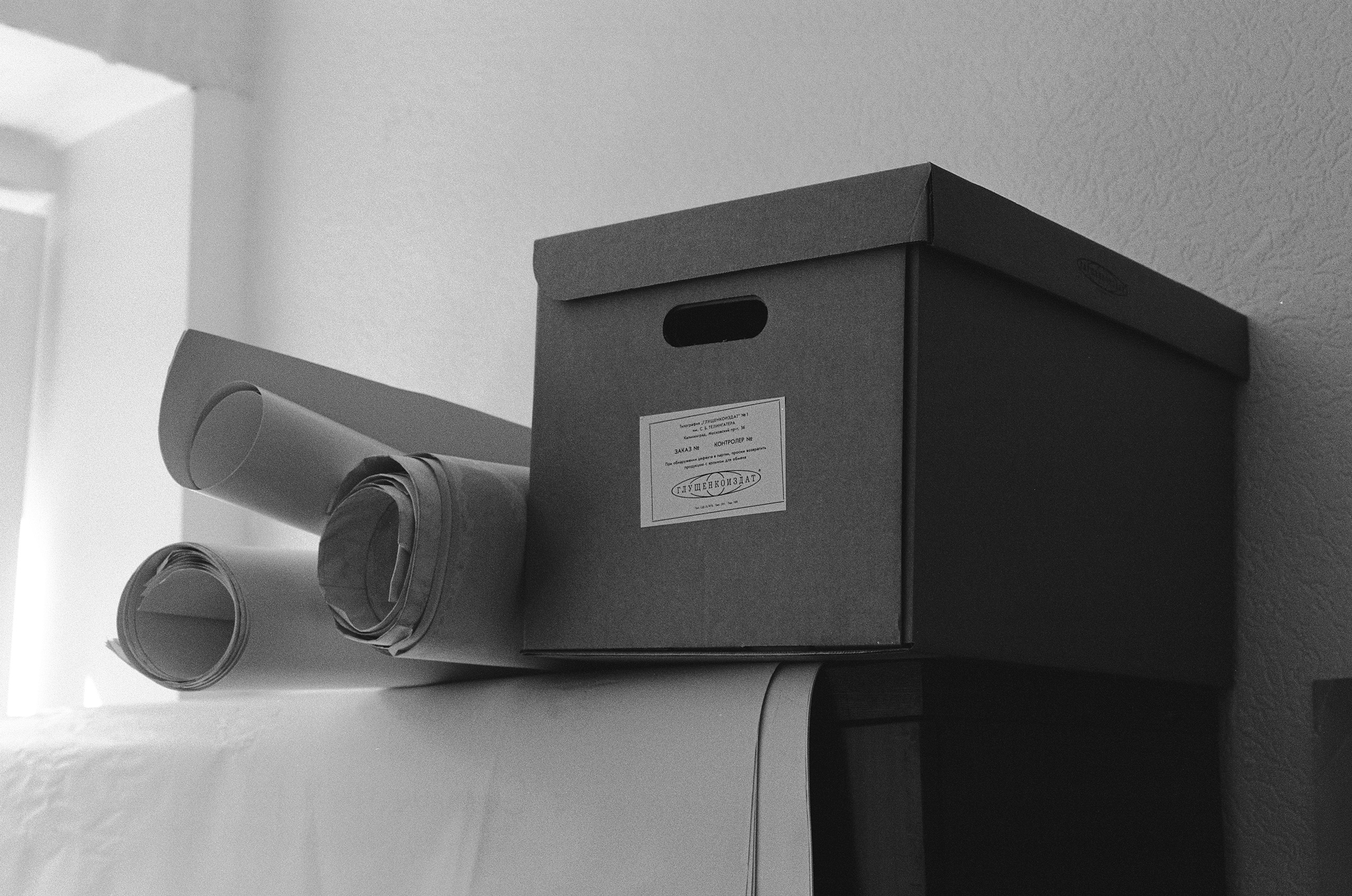 ← Fig. 18-20 →
Fig. 21 — Order № 248. Poster "Moscow Lights", 180×100 cm
List of Gluschenkoizdat items produced
for 'Moscow Lights'

№ 186
Stamp "Human resources. Gluschenkoizdat press"
1
Leipzig
2019
№ 216
Poster "Moscow Lights. The future isn't yours", 70×100 cm
Digital print
1
Leipzig
2019
№ 217
Work robe "Gluschenkoizdat Press"
Silkscreen
3
Leipzig
2019
№ 218
Triptych "Our Days are Rich and Bright. Pskov, Riga, Ulyanovsk", 3×60×90 cm
Digital print
1
Leipzig
2019
№ 219
Poster "Ecofeminism", 100×70 cm
Digital print
1
Leipzig
2019
№ 220
Letterhead "Gluschenkoizdat Press. Business trip certificate"
Digital print
150
Leipzig
2019
№ 221
Identification "Gluschenkoizdat Press"
10
Leipzig
2019
№ 222
Letterhead "Gluschenkoizdat Press. Order receipt"
Digital print
80
Leipzig
2019
№ 223
Letterhead "Gluschenkoizdat Press. Decree"
Digital print
100
Leipzig
2019
№ 224
Stamp "Gluschenkoizdat press. Moscow-Leipzig"

1
Leipzig
2019
№ 225
Letterhead "Gluschenkoizdat Press. Statement"
Digital print
50
Leipzig
2019
n/a
Sign "Ecofeminism", 4140×1400 mm

Acrylic on fiberboard
1
Kaliningrad
2020
n/a
Sign "The poetry of mature searching", 5600×1035 mm
Acrylic on fiberboard
1
Kaliningrad
2020
№ 240
Calendar "Manager's Diary. Workplace Drama, 1960–2019", 736 pages
Risography
1
Kaliningrad
2020
№ 241
Advertisement "Film! Film! Film! Moscow Lights"
Moscow
2020
№ 242
Letterhead "Gluschenkoizdat Press. Statement"
Risography
500
Kaliningrad
2020
№ 243
Letterhead "Gluschenkoizdat Press"
Risography
250
Kaliningrad
2020
№ 244
Letterhead "Gluschenkoizdat Press"
Risography
250
Kaliningrad
2020
№ 245
T-shirt "Merz Blinked"
1
Kaliningrad
2020
№ 246
Lables "Gluschenkoizdat Press Archive"
250
Kaliningrad
2020
№ 247
Cardboard boxes "Gluschenkoizdat Press"
30
Kaliningrad
2020
№ 248
Poster "Moscow Lights", 180×100 cm
Digital print
6
Moscow
2020
№ 249
Film "Moscow Lights", 23 min 30 sec, 5k
5+1
Moscow
2020
№ 250
Press-kit "Moscow Lights", 200×260 mm
Digital print
100
Moscow
2020
№ 254
Poster "Moscow Lights", 60×90 cm
Silkscreen
25
Moscow
2021
№ 263
Certificate of Authenticity "Moscow Lights" № 011221/001–OM
Digital print
6
Moscow
2022
№ 264
Box set "Moscow Lights" № 011221/001(6)–OM
16 mm film box
6
Moscow
2022